Reliance Jio Infocomm (Jio) has increased its tariffs by 20-21%,thereby closing the loop where all three private telcos have upped their price plans to bring in more revenue from customers. However, Jio's prices remain lower than rivals Bharti Airtel and Vodafone Idea(Vi), as the Mukesh Ambani own telecom market leader continues to target rival users as it aims for 500 million users.
"In line with its commitment to further strengthen a sustainable telecom industry, where every Indian is empowered with a true digital life, Jio today announced its new unlimited plans," said the Mukesh Ambani led telco in a statement on Sunday.
"These plans will provide the best value in the industry. Upholding the Jio promise of providing the best-quality service at the lowest price globally, Jio customers will continue to be the biggest beneficiaries.," it added.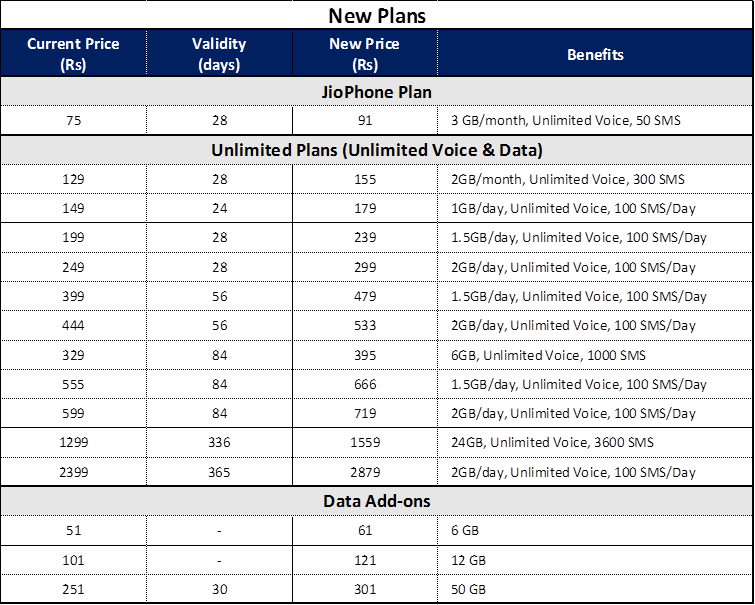 The largest telco with 429.5 million subscribers' new prepaid plans come within days of Airtel and Vi upping their prices by 20-25%.
From December 1, the telco's price of its entry-level plan will be 21% more expensive at Rs 91, while 11 other mobile phone plans and four data packages will be around or over 20 %% dearer. But keeping the tariffs cheaper than rivals will stem subscriber losses.
In the July-September quarter, the company lost over 11 million subscribers to end the quarter with 429.5 million users. The price hike will not leave its low paying subscribers with any option but to upgrade since porting out to rivals will be more expensive. For instance, entry level of Airtel and Vi is at Rs 99.