January 11, 2023
/ 10:47 AM IST
Auto Expo 2023 Live Updates: JBM Galaxy-Top Features at a glance
-JBM Galaxy coaches have been designed keeping in mind luxury, including ccomfort, safety and performance.The 12-metre, high-floor coaches are equipped with the latest infotainment systems, modern utilities like wifi, mobile charging ports, comfortable reclining seats, saloon lighting and best in class safety features.
-With a seating capacity of 45 passengers, the new coaches are powered by high energy density advanced chemistry lithium-ion batteries offering a range of upto 1000 kms per day. The bus is equipped with high voltage lithium NMC battery with thermal management system
January 11, 2023
/ 10:44 AM IST
Auto Expo 2023 Live Updates: JBM Auto showcased 3 new products in its electric bus series that cater to diverse platforms like city, staff and school segments.
January 11, 2023
/ 10:41 AM IST
Auto Expo 2023 Live Updates: JBM Auto launches India's first indigenously designed and manufactured electric luxury bus 'JBM Galaxy'
-JBM Auto today launched India's first completely designed and manufactured 100 percent electric luxury coach – JBM GALAXY. The luxury coach was unveiled by S.K. Arya, Chairman and Nishant Arya, Vice Chairman, JBM Group.
-JBM Auto is the flagship company of the $2.2 billion global Indian conglomerate, JBM Group.
-This launch of JBM's luxury coach marks a historic shift for the coach industry so far dominated by foreign players and conforms to the government's 'Make in India' initiative.
 
January 11, 2023
/ 10:29 AM IST
Auto Expo 2023 Live Updates: Passes and registration details
-While the exhibition centre will be accessible for valid ticket holders only, there could be some exceptions for kids under the age of five, disabled people (with an attendant), etc. The ticket price is Rs 350 per head and one can book them by logging on to https://in.bookmyshow.com/events/auto-expo-the-motor-show-2023/ET00343313
January 11, 2023
/ 10:26 AM IST
Auto Expo 2023 Live Updates: Next Gen Hector's safety features-The Next-Gen Hector ahas key safety features such as 6 airbags, a 360-degree HD camera, Electronic Stability Program (ESP), Traction Control System (TCS), Hill Assist Control (HAC), all four-wheel disc brakes, a 3-point seat belt for all seats, electric parking brake (EPB), and front parking sensors. -The newly introduced Smart Auto Turn Indicators in Next Gen MG Hector also offer a hassle-free and safe driving experience. Based on the steering angle, the respective indicator light automatically gets ON/OFF.-This automatic signal will be useful when the driver fails to put on the indicator while entering the road from a parking space or during a U-turn.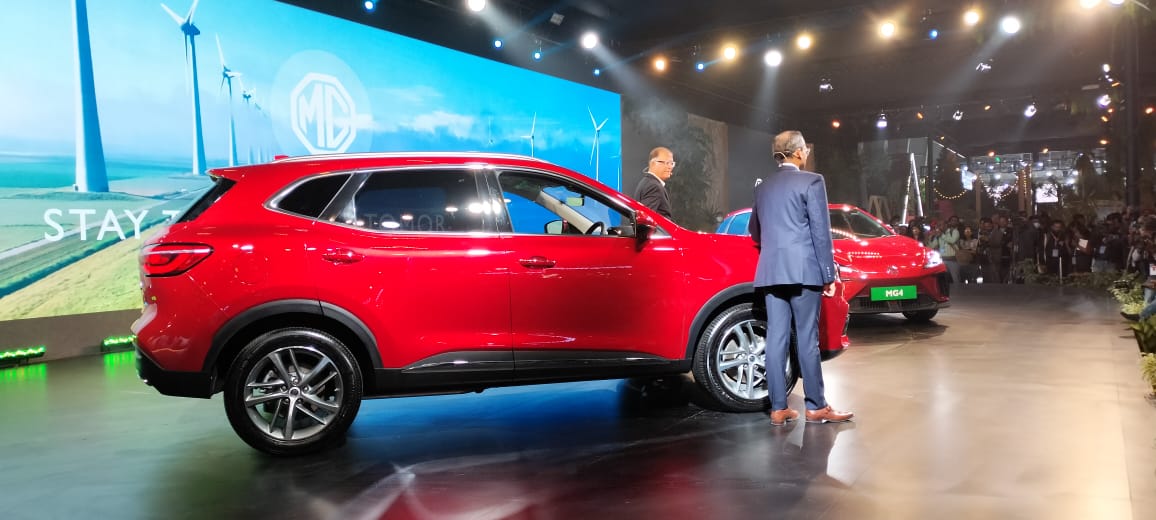 January 11, 2023
/ 10:23 AM IST
Auto Expo 2023 Live Updates: MG Motor's Next Gen Hector SUV has India's largest HD portrait infotainment system
-The new SUV has India's largest 35.56 cm (14-inch) HD portrait infotainment system along with a brand-new user interface.
-The technological innovation is also manifest in the first-in-segment Digital Bluetooth Key and Key Sharing capability. In case of an emergency or loss of a key, the Digital Key can be used to lock, unlock, start, and drive the vehicle.
-Using the Remote Lock / Unlock feature, the car can be unlocked from anywhere. With the key-sharing function, one can share an additional key with up to two people.
January 11, 2023
/ 10:20 AM IST
Auto Expo 2023 Live Updates: MG Motors's Next Gen Hector Series: Key features
-The Next-Gen Hector has an 11 Autonomous Level 2 (ADAS) features that offer hassle-free driving comfort with enhanced safety. 
-The interiors of the new SUV are available in a dual-tone argil brown and black theme with a wooden finish. 
-The 6-seater SUV seats come with a captain configuration while the 7-seater vehicle is offered with bench seats.
-The intelligent Traffic Jam Assist (TJA) ensures minimal effort and maximum safety in a traffic jam situation by keeping the vehicle in the middle of the lane and maintaining a safe distance from the vehicle in front. 
January 11, 2023
/ 10:10 AM IST
Auto Expo 2023 Live Updates: Unveils and launches to look out for today
-75 launches and unveils to be expected at the Auto Expo, with 48 participating OEMs. Around 5-6 electric vehicles will be unveiled on January 11.
-Several cars from manufacturers such as Maruti Suzuki, Hyundai Motors India, Tata Motors, Toyota Kirloskar Motor, Kia India, MG Motor India, will be unveiled or launched at the Auto Expo
Read full story here
 
January 11, 2023
/ 10:05 AM IST
Auto Expo 2023 Live Updates: The Hector was India's first Internet SUV
-The Hector, India's first Internet SUV, was introduced by MG Motor India in 2019 and has since set a new bar for SUVs in India by giving shape to its philosophy of connected, autonomous, shared, and electric mobility.  
January 11, 2023
/ 10:00 AM IST
Auto Expo 2023 Live Updates: MG4 EV hatchback and MG EHS
-The MG4 EV hatchback, which comes with spacious interiors, ensures driving convenience through its five different charging options. Since its launch in 2022, the MG4 EV hatchback is sold in more than 20 European markets including Germany, France, the United Kingdom, Italy, Spain, Norway, and Sweden.
-The MG EHS Plug-in Hybrid brings together efficiency and performance along with spacious interiors and a sporty exterior. The MG EHS Plug-in Hybrid truly offers the best of both worlds. The drive system offers an electric motor, a battery pack and a powerful petrol engine that work seamlessly together for optimum efficiency, power and range. 
January 11, 2023
/ 09:58 AM IST
Auto Expo 2023 Live Updates: 14 cars showcased as part of MG's Drive Ahead India vision
-The company unveiled a line-up of 14 production-ready vehicles from its portfolio that communicate the brand's focus on sustainable and innovative technology as part of MG's vision in India. 
-The company also unveiled two technologically advanced, high-safety, and zero-emission electric vehicles (EVs) supporting its stance as an Auto-tech brand during the show. The two vehicles are the MG4, a pure-electric hatchback EV, and the MG EHS, a plug-in hybrid SUV. 
January 11, 2023
/ 09:50 AM IST
Auto Expo 2023 Live Updates: MG Motor's Next Gen Hector-7 seater priced at Rs 22.42 lakhs